Granola Lovers Beware: Oat Costs Jump as Canada Output Drops
Biggest rally in decade as harvest delays erode grain quality
Canada supplies half of oats used in U.S. snack bars, cereals
Granola and oatmeal lovers in the U.S. may need to prepare for some sticker shock.
Oat production in Canada, the world's biggest exporter, is set to plunge after rain and snow delayed harvests across the Prairie Provinces. Because the crop spent too much time in wet fields, grain quality declined, which means more will end up as livestock feed and less will be suitable for making food products like Cheerios breakfast cereal.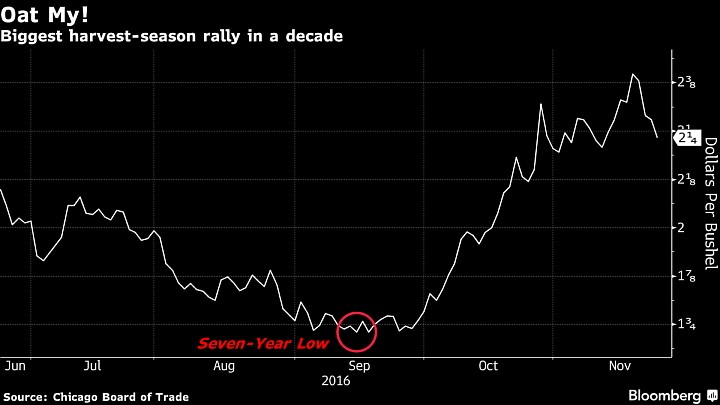 Since the end of September, when the extent of the damage began to emerge, prices have rebounded from a seven-year low, staging the biggest harvest-season rally in a decade. More than 90 percent of Canada's oat exports are sent to the U.S., where companies including General Mills Inc. and Quaker Oats Co. use them in everything from snack bars to cereals.
"You can't make a Cheerio out of barley," said Randy Strychar, the president of Oatinformation.com, an industry researcher based in Vancouver. "It's going to be tight."
Production will drop 13 percent to 2.976 million metric tons after lingering harvest delays, Agriculture and Agri-Food Canada said Nov. 17. Strychar says the decline may be as 20 percent because farmers were so far behind the normal pace of harvesting.
As of Nov. 21, farmers in Saskatchewan still hadn't collected 6 percent of their crop, according to the province's agriculture ministry. Alberta had 27 percent unharvested as of Nov. 15, data from the provincial government show. A year earlier, the oat harvest was mostly completed by early November.
To see why grain...
More